Just like last year, our Ph.D. students were part of this year's AutoML Fall School Hackathon winning team. This year the team consisted of Lennart Purucker, Lukas Wegmeth, Gabriela Kadlecová, Nick Erickson, and Sarah Krebs, and was again titled "Team 42". This marks the second year in succession that our Ph.D. students won the AutoML Fall School Hackathon.
This year, the Hackathon was organized by Nicholas Roberts, Samuel Guo, and Ameet Talwalkar in the scope of the AutoML Decathlon 2022 on the NeurIPS'22 Competition Track. The task of the Decathlon is to achieve the highest possible performance on a diverse set of tasks. To tackle this challenge, participating teams would have to build a sophisticated ML system that analyzes and tackles tasks with the proper methodology.
The time from the announcement of the Hackathon to its conclusion was just about 24 hours, so building a complex system was not expected. Instead, teams were given a reduced number of diverse tasks and challenged to find a way to beat the baseline performance score (XGBoost performance) and present their ideas for a system that is able to improve upon this. Specifically, the teams were encouraged to apply many of the AutoML toolsets that were previously presented in the AutoML Fall School 2022 (H2O presented by Erin LeDell, Auto-Sklearn presented by Matthias Feurer et al., and AutoGluon presented by Nick Erickson).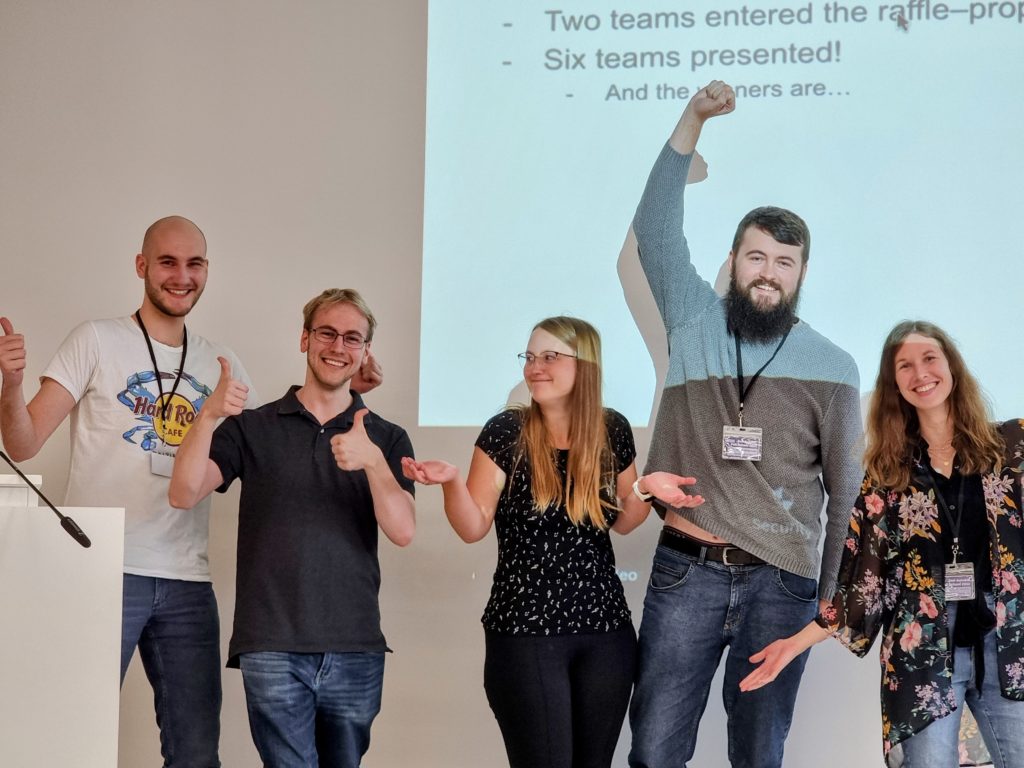 Lennart Purucker is a second-year Ph.D. student at the Intelligent Systems Group while Lukas Wegmeth joined us as a Ph.D. student at the beginning of this year. They are already working on specialized topics in AutoML and RecSys, and the AutoML Fall School 2022 was a perfect fit to deepen their understanding of the AutoML landscape and make new contacts with fellow researchers.
The second installment of the AutoML Fall School concluded last week. This time it was a hybrid event with most researchers and students attending in person at the venue in the IMBIT building of the Albert-Ludwigs-Universität Freiburg. And our Ph.D. students attended in person, too! Prof. Joeran Beel of the Intelligent Systems Group was also an invited speaker, talking about AutoRecSys and its challenges and opportunities. It was a great week with many positive resonances from speakers and attendees alike. Being able to finally meet in person and enjoy social events after a long day of talks and hands-on sessions was a very delightful experience.
The AutoML Fall School 2022 was organized by Prof. Dr. Marius Lindauer (Leibniz Universität Hannover), Prof. Dr. Frank Hutter (University of Freiburg & Bosch Center for Artificial Intelligence), Prof. Dr. Bernd Bischl (Ludwig-Maximilians University Munich & Munich Center of Machine Learning), Dr. Janek Thomas (Ludwig-Maximilians University Munich), Zwetelina Steinbach (University of Freiburg), André Biedenkapp (University of Freiburg), Rhea Sukthanker (University of Freiburg), Neeratyoy Mallik (University of Freiburg), and Dr. Noor Awad (University of Freiburg).