We spend far too much time with communication — writing emails, organizing (and rescheduling) meetings, etc. Hence, when you communicate with us, please be professional, and minimize our efforts. What that means concretely is outlined in the remainder.
In general
Provide all the information needed to minimize the effort for us to reply
Tell us exactly (yet briefly)
what you want. Do not let us guess what you want. For instance, do not (only) write "I feel that the exam was too difficult and your lecture did not prepare me well". Instead write, what you exactly want. Higher marks? Re-do the exam? A promise that I will give a better lecture next term so that other students do not suffer the same fate as you did?
by when you need it (the ideal date, and the latest date)
why you want it (or what the consequences are if you don't get it)
how do you need it (e.g. a physical letter or a PDF? Or both? Or a physical meeting or virtual?)
where we should send it to (e.g. your email? your home address? …)
from whom you need it (just anyone, Prof. Beel, the HR department…)
who you are (e.g. student ID)
… everything!
Similarly, if you report an error, provide an exact description of the problem. Do not write e.g. "The log-in to the Wiki does not work correctly". Tell us what URL you are using, and what exactly happens. Do you get an error message? If so, which one? Or is the log-in page just blank? Or does the login work but after that you can't access certain pages? Or…? Ideally provide a screenshot of errors.
Seriously, before pressing the "send" button, please take 30 seconds to recapitulate. Think about if you really provided us with all the information we need to reply to your email. If we ever reply to you and ask for more information, please realize that you delayed the process and wasted time, yours, and ours.
Provide drafts and pre-fill information
If you want a document from us, e.g. a letter of invitation or recommendation, please provide a draft. If you want a form to be filled, please pre-fill it as much as possible.
Use Meaningful File Names
Give your files names that are meaningful for you and for us! A name like "draft 01.docx" is not meaningful, as we are working typically with a dozen students at any time, who all sooner or later have the first draft. Instead, name your file e.g. "$project name, progress report, draft 01.docx".
If you use a date in your file name (which is typically a good idea), use the yyyy-mm-dd format and not e.g. dd-mm-yyyy.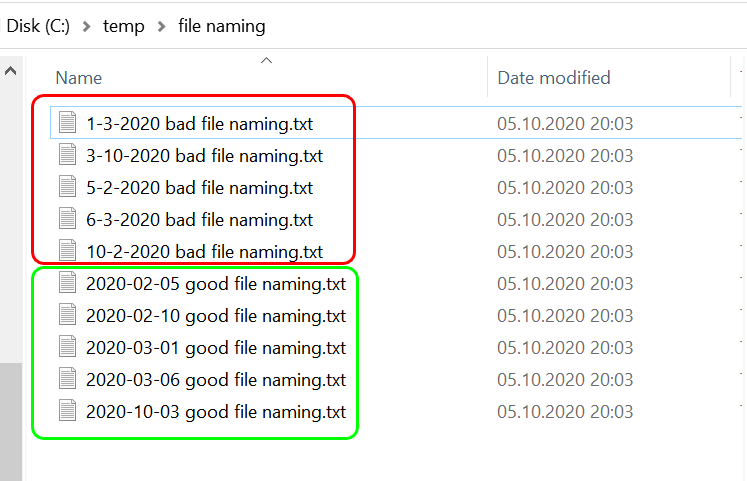 Don't use "final" in your file name, unless it is really final, i.e. it has been submitted finally. Otherwise, you will end up having a "final" version, another "final 2" version, a "final, really final" and a "very final" version.
Email
Give Meaningful Subjects to Emails
Make it easy for us to anticipate what your email is about. The subject of your email must be unique — for us, not for you. When we look at the subject, we must know what this particular email is about. Keep in mind that there might be one hundred other people with similar questions. Have a look at how the subjects look from students asking us to supervise their Bachelor and Master theses (also called Final Year Project). The subjects are all interchangeable and if we look at them, we have no idea what the difference between the first and second email is, and between the first and third email, and so on.
Hence,
Not good:

"Final Year Project"
"Question Final Year Project"
"Final Year Project, Idea"

Good

"Final Year Project: Request for Supervision ($project_name)"
"Final Year Project Question: When is the application deadline?"
Create New Email-Threads for New Topics
If you start a new topic, create a new email thread. We don't mind getting three or four emails from you at the same time if they are all about different issues. For instance, if you have previously received or written an email titled "Guidelines for applying to Japan internship", then please do not hit the reply button and send an email to ask about the hand date for an assignment. Instead, create a new email titled e.g. "Machine Learning assignment — when is the hand-in date?".
Have a Straight-to-the-Point Structure
Write within the first sentences what you want, then provide more details.
Not good: Hello, in September I am starting my Master's thesis. The thesis is about … My first supervisor is person x. … blah blah blah Could you be the second supervisor?
Good: Hello, could you be the second supervisor for my Master's thesis? The first supervisor is person x, and the thesis is about….
Outline Different Options (if there are any)
Don't let us assume what to do next. Provide specific options. Write something like, "I see the following options. a) … and b) … "
Bad: "Hello, I am sick, and need to cancel our appointment for the final year project discussion"
Good: "Hello, I am sick, and need to cancel our appointment for the final year project discussion. Could we meet next week Wednesday at 10:00? If you like, I could also describe my project idea via email."
Beware of "Reply" vs. "Reply all" vs. "BCC"
If you don't know the differences between these methods, and the best practices, Google it.
Reply Within 2 working days
Please reply within 2 working days to emails. This does not mean you must accomplish a potential task given to you in the email. It means you should confirm the receipt of the email and the time by then you will have done the task, e.g.
Hi… thank you for your email, I will send/do/finish the task by October 12, noon.
Do not attach files to emails
Please send files by email only if you think it is important to permanently archive the file (e.g. to prove that a certain file was sent at a certain time). This might be the case for final versions of contracts, protocols, assignments, theses, …
Otherwise, store files whenever possible in the cloud, and send links to the files via email. This saves our mail storage, and you can update the file without sending it again.
If you don't get an answer to your email…
If you don't get an answer to an email, there are two possible reasons.
The recipient did not receive the email (or didn't see it, or forgot to reply).
The recipient deliberately decided not to answer.
Case 1) is quite unlikely. If, however, you believe that the recipient actually did not receive your email, send a gentle reminder.
Case 2) though, is much more likely. In that case, think about what the reason may be. Depending on the reason, just let it be and accept that you will not get an answer, or send another better email. What is not helpful is sending a gentle reminder. If the recipient decided to ignore your email in the first place, sending a reminder is making things rather worse than better.
Here is a prime example of how to not use "gentle reminders": A person named Melika Helali from Qazvin Azad University in Tehran sent her first email to me on 19 August 2022, asking about Ph.D. positions.

During the following weeks, she sent three reminders
Almost a year later, she sent an email being identical to her first email.

Within the following weeks, three more reminders followed.

Instant Messaging
Avoid Instant Messaging
Use instant messaging only if
it is urgent ("the production server is down")
you need an immediate reply ("do you want to join us for lunch in 10 minutes?")
the message is of temporary importance, i.e. when I would read the message the next day, it wouldn't be relevant anymore ("do you want lunch in 10 minutes?").
the message is simple and can be dealt with by sending a short reply. For complex matters that are urgent, send an email in which you describe the issue in detail, and then send an instant message to tell that you sent an urgent email.
Do not say "hi" and wait
Do not write "hi" and then wait for a reply. Just get to the point straight away.
Do not split messages
Please do not send split-messages ("hello" … "we have a problem" … "the server is down" … "what shall I do"?) but send all the information at once ("we have a problem, the server is down. what shall I do?").
Do not send messages outside of business hours
Please keep in mind that some of us have a private life. If you send us an instant message outside of standard business hours (weekdays, 9:00-17:00), then it may well be that you interrupt us while having dinner with friends or family, watching a movie, or just relaxing. If there is a real emergency, then this interruption may be appropriate. Otherwise, it is not!!!
Calendars & Appointments
Accept or reject invitations / do not ignore them or wait for the last minute
If you get a (Google) calendar invitation, then please react, immediately! Accept the invitation, reject it (with a note if sensible), or propose a new time if appropriate. If you are unsure, select "Maybe" and add a note. Do this immediately, and not a few days or weeks after receiving the invitation. If your plans change later, update the invitation. Ignoring invitations is an extremely bad habit and prevents the organizer from adjusting the meeting if needed.
For instance, imagine we have a group meeting with both remote and physical attendees. If all remote attendees cancel, we might decide to have the meeting not in our video conference room, but in a more comfortable space. If most physical attendees cancel, but remote attendees attend, the remaining physical attendees may decide to also stay at home and do the meeting remotely. However, if the cancellations only come in a few hours before the meeting (or not all at), such an adjustment will be difficult to make.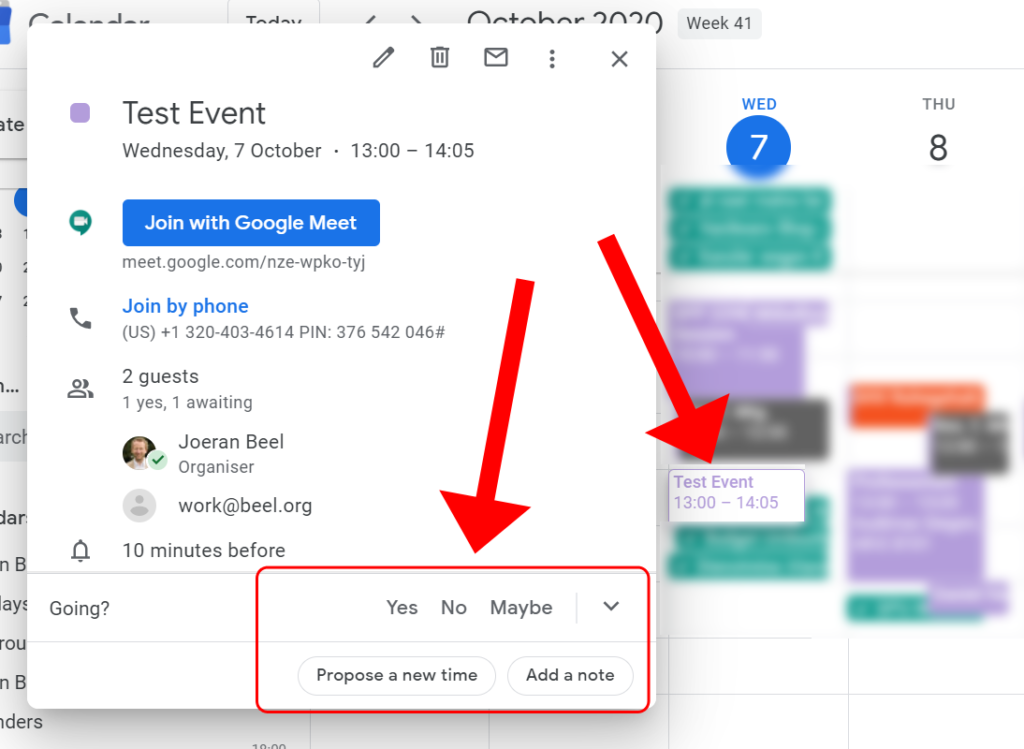 Almost all calendars and also email clients have similar functionalities to accept and reject meetings including Gmail …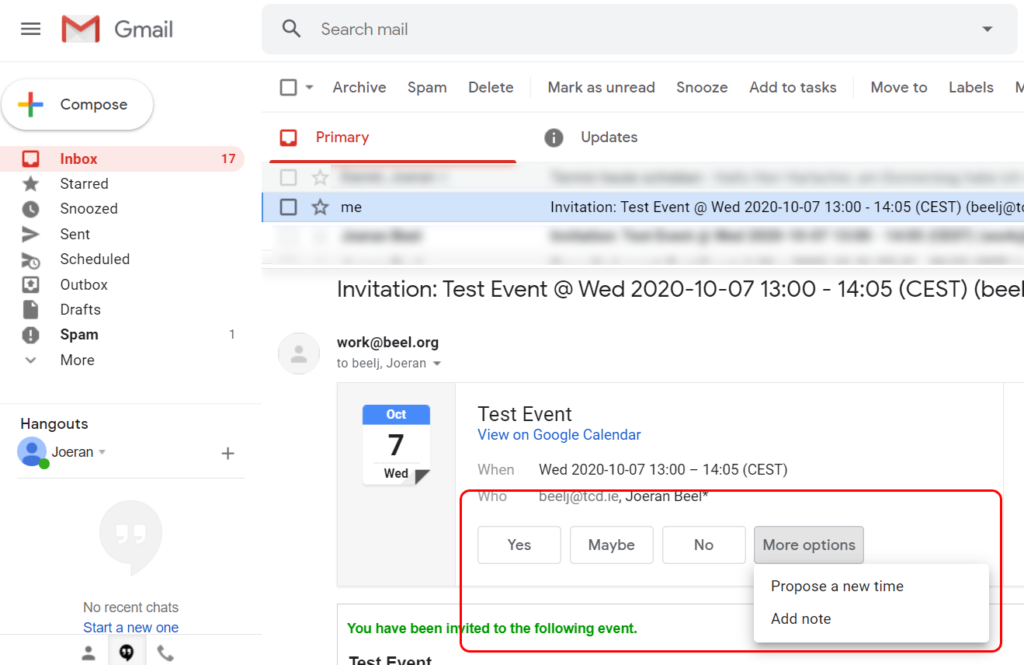 … and Outlook.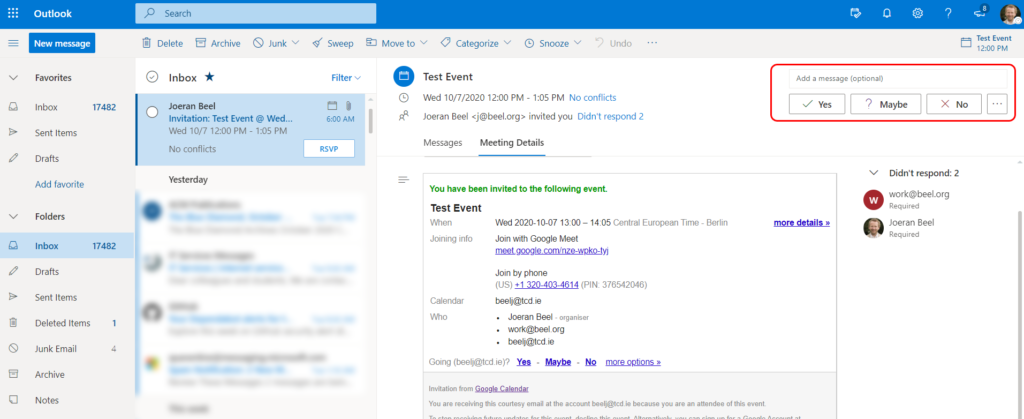 Activate Notifications for Shared Calendars
If someone shares a calendar with you, activate notifications for new events or changes in that calendar. In that case, you will receive an email if someone makes a change. We suggest you do this e.g. if you are a member of ISG and have access to our joint group calendar.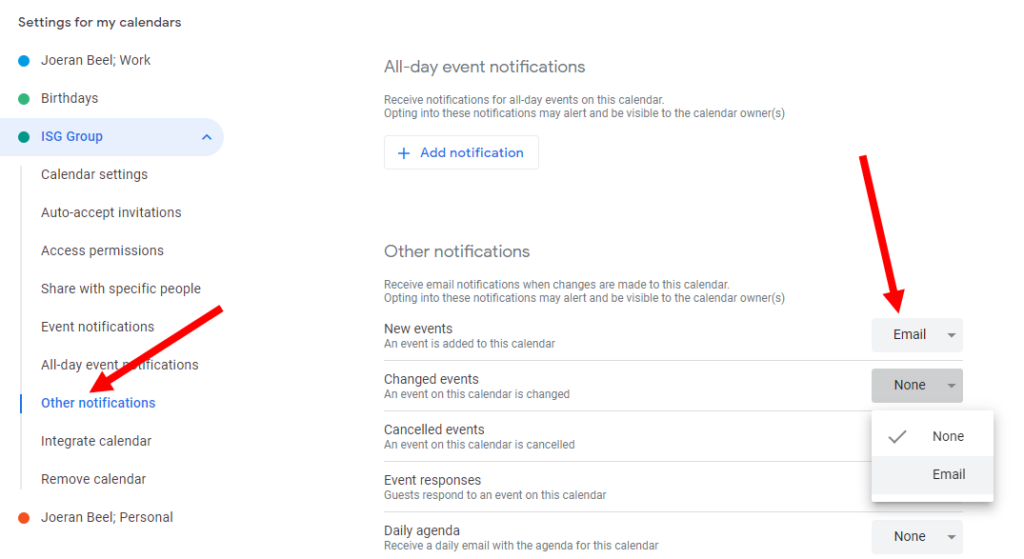 Re-Schedule or Cancel Appointments Online
If you booked an appointment through http://schedule.beel.org/, and would like to re-schedule or cancel, please use the link provided in the booking confirmation email: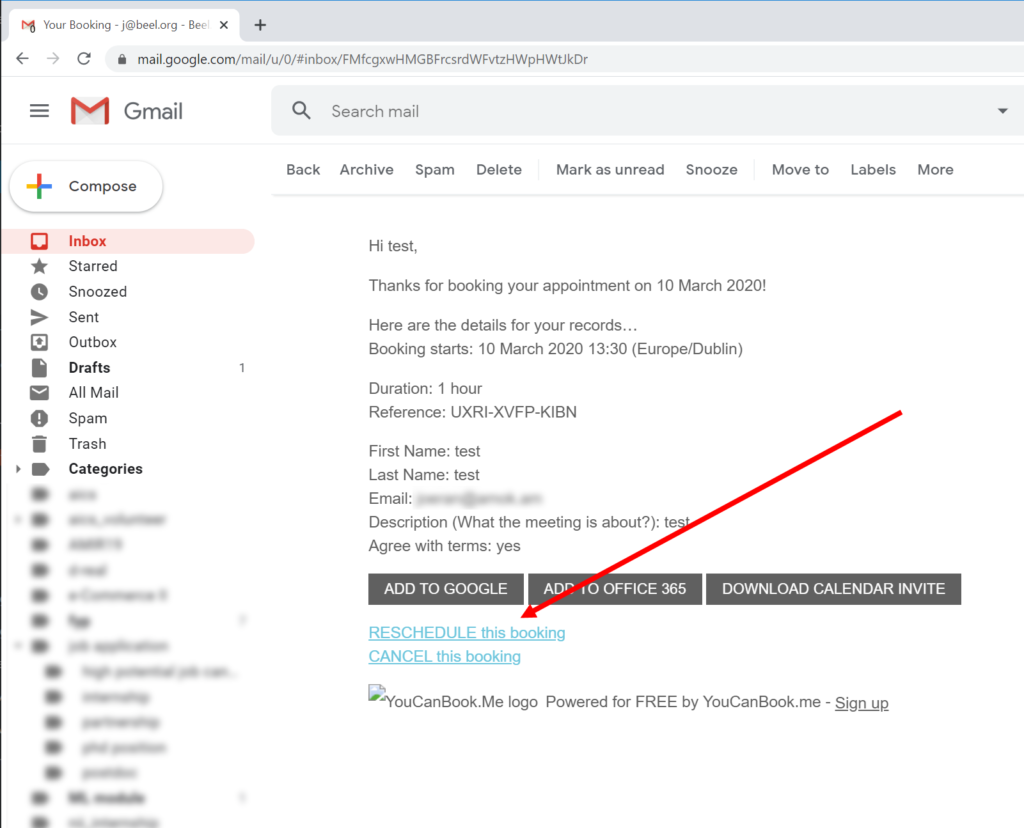 If we have a joint Google Calendar event, use Google Calendar to reschedule or cancel, and ensure to suggest a time where I am available (see http://schedule.beel.org/). Also, please add a note explaining the reason.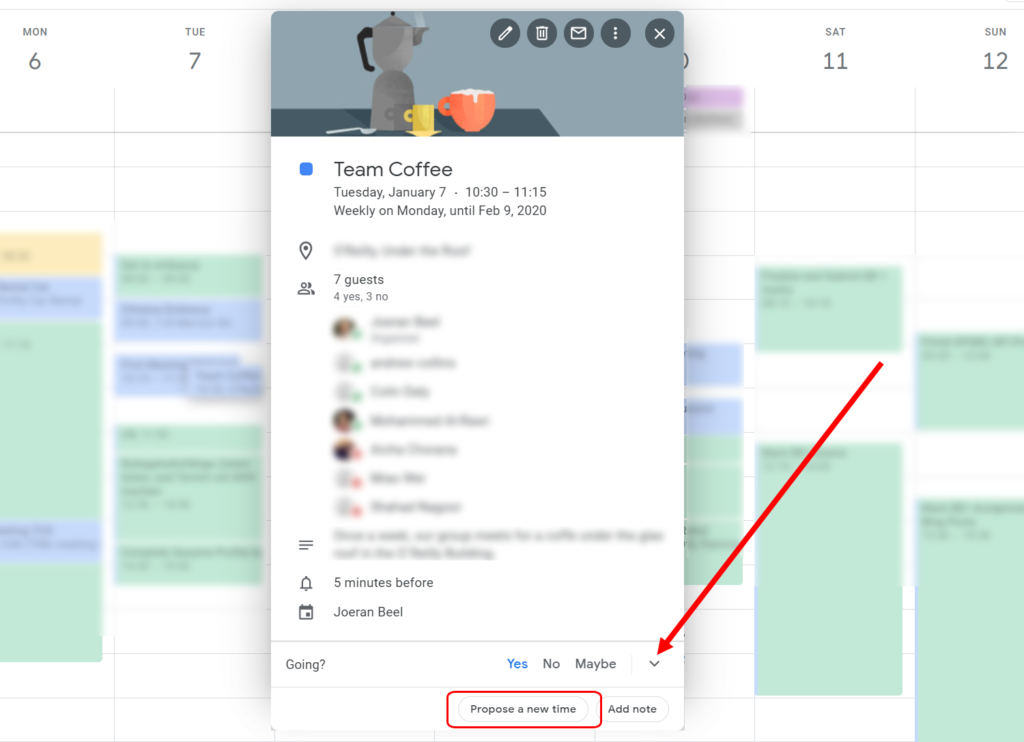 Feedback on Documents
If you want our feedback on your documents (paper, thesis, letter of recommendation…) please send us preferably an MS-Word document (.docx) as a URL.