With great delight, we had the opportunity to discuss our paper on our vision of a novel way to utilize the advantages of meta-learning in recommender systems at the 2nd Workshop: Perspectives on the Evaluation of Recommender Systems @ ACM Recommender Systems 2022. We had plenty of amazing discussions on our idea and our implementation called CaMeLS in short.
Furthermore, we have previously presented late-breaking results of this research work as a poster at the COSEAL Workshop 2022 where we got even more feedback on the idea.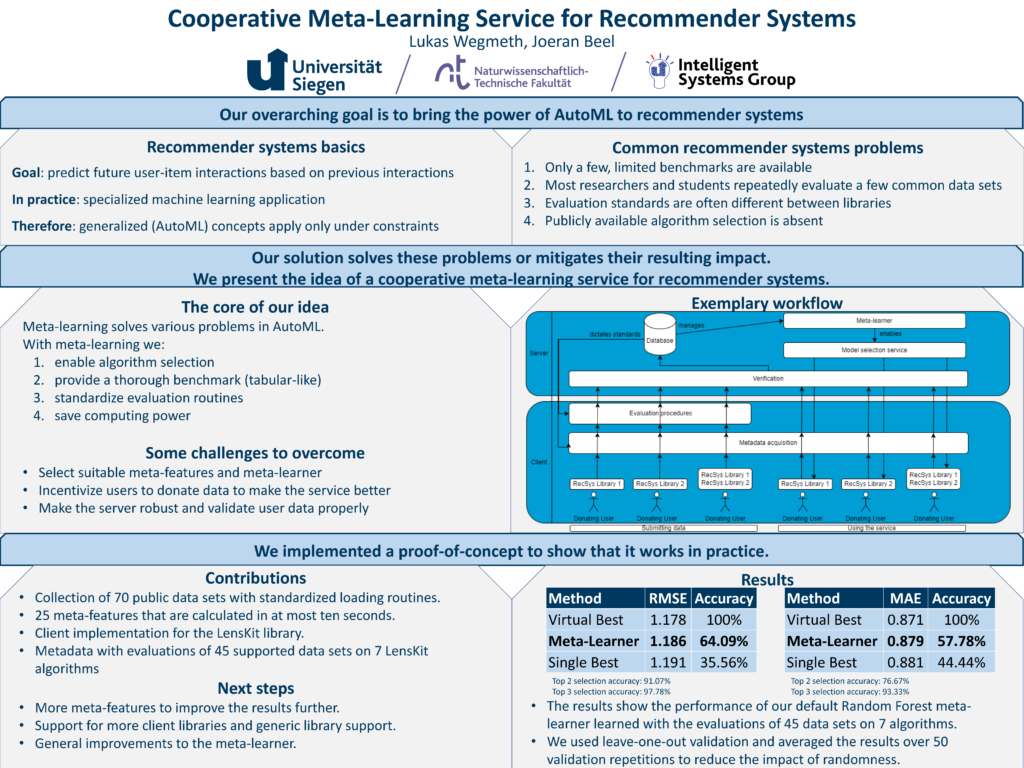 The COSEAL Workshop and subsequently the PERSPECTIVES workshop presented a great opportunity for us to connect with other researchers who are interested in algorithm selection, meta-learning, evaluations, and other related topics.
Located in Seattle, the RecSys conference had an outstanding venue where we finally met many known RecSys researchers in person. A large number of relevant and interesting papers were presented there over the five days of the main conference and workshops and we are especially happy to have been participating there.
Our paper was published in the Proceedings of PERSPECTIVES 2022 and is publicly available under CaMeLS: Cooperative Meta-Learning Service for Recommender Systems. Of course, our code is open-source and available in the CaMeLS repository.
The ACM Recommender Systems Conference is a leading international conference that focuses on the research and development of recommender systems. The conference was first held in 2006 and since then, it has been held annually in various locations around the world. The conference provides a forum for researchers, practitioners, and developers to present their latest research and share their experiences and insights on the latest developments in the field of recommender systems.
The research focus of the conference includes a wide range of topics related to recommender systems, such as personalized recommendation algorithms, evaluation metrics, user modeling, and cold-start problem, explainable recommendation, and the ethical and societal implications of recommender systems. Additionally, the conference also covers applied domains such as music, movies, news, and e-commerce.
The conference typically features keynote speeches by leading experts in the field, as well as oral and poster presentations, workshops, and tutorials. The conference also includes a doctoral consortium, which provides an opportunity for PhD students to present their work and receive feedback from experienced researchers in the field.
The location of the conference this year is Seattle, Washington, USA. Seattle is known for its beautiful landscape and outdoor activities, including hiking, skiing, and boating. The city is also home to many cultural attractions, such as the Space Needle, the Pike Place Market, and the Museum of Pop Culture. Seattle is also known for its coffee culture, and is home to some of the world's most popular coffee shops.