Automated Machine Learning (AutoML) is receiving increased attention with more and more tools and software libraries released to ease the process of automating the machine learning pipeline, particularly algorithm selection and configuration.
We have created a table of some of the more promising AutoML tools and software libraries. We plan to maintain this list and extend it in the near future.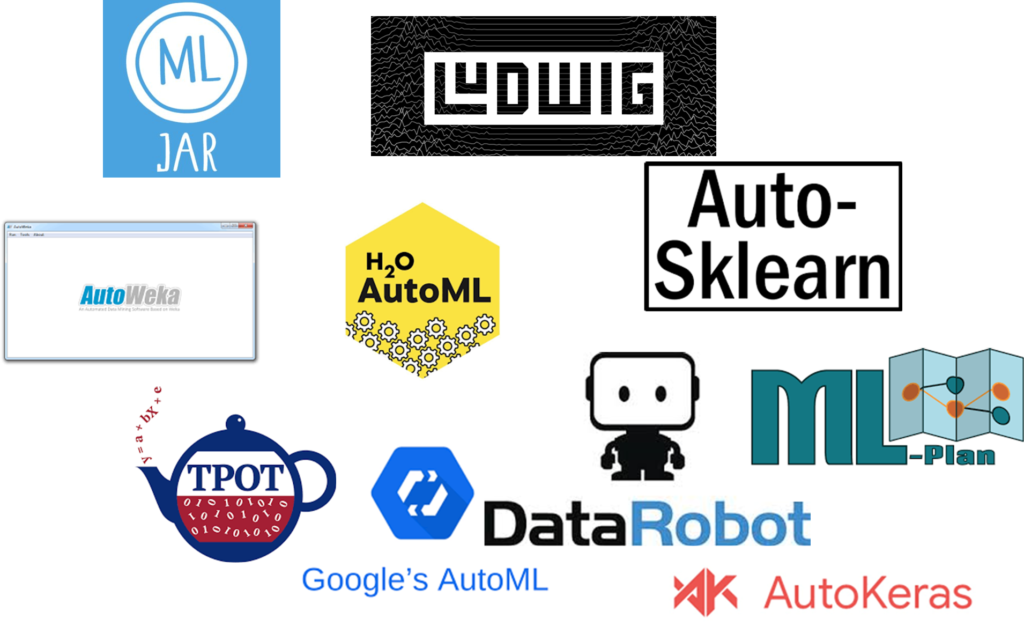 If you would like to add a tool, have your tool removed or if we have misattributed a maintainer, please feel free to contact us or leave a comment!
Open Source AutoML Tools:
Tool
Built on
Maintainer
Source
Last Updated
Auto-WEKA
WEKA
Lars Kotthoff et al.
Github
Aug 30, 2017
Auto-sklearn
scikit-learn
Matthias Feurer et al.
Github
Jan 22, 2020
AutoKeras
Keras
DATA Lab, Texas A&M University
Github
Apr 8, 2020
Tpot
scikit-learn
Computational Genetics Lab at the University of Pennsylvania
Github
Mar 31,2020
H2O automl
H2O
H2O ai
Github
Feb 8, 2020
AdaNet
TensorFlow
Charles Weill, Eugen Hotaj et al.
Github
Feb 4, 2020
MLjar
MLjar-supervised
Piotr
Github
Apr 8, 2020
Ludwig
TensorFlow
Uber
Github
Apr 2, 2020
ML-Plan (AILibs)
WEKA
scikit-learn
Felix Mohr
Github
Jan 24, 2020
MLBOX
scikit-learn
Axel
Github
Oct 9, 2019
Auto-PyTorch
PyTorch
AutoML Group Freiburg
Github
Mar 23, 2020
TransmorgrifAI
Apache Spark
Salesforce
Github
Mar 27, 2020
automl-gs
TensorFlow
Max Woolf
Github
Apr 5, 2019
Azure Machine Learning
ML.NET
Microsoft
Github
Apr 8, 2020
Commercial Closed Source AutoML Tools