After recently advertising an Assistant Professorship in Computer science (Artificial Intelligence), Trinity College Dublin now has an additional position to fill with a Full Professor in Computer Science focusing on Artificial Intelligence and related disciplines (machine learning, natural language processing, data analytics, data and knowledge engineering, personalisation, content analytics, …). The appointment will be made on the Professor salary scale (€117,915 – €151,477 per annum) at a point in line with the Irish Government Pay Policy.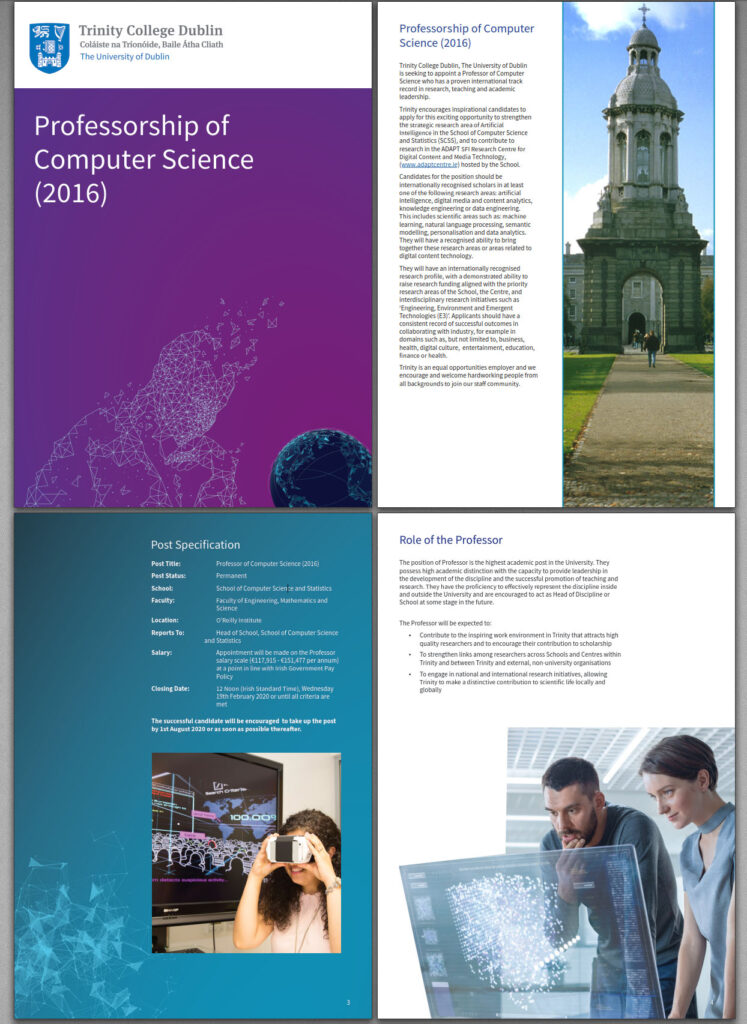 The following description is from the official job description (available in full at http://jobs.tcd.ie):
Trinity College Dublin, The University of Dublin is seeking to appoint a Professor of Computer Science who has a proven international track record in research, teaching and academic leadership.
Trinity encourages inspirational candidates to apply for this exciting opportunity to strengthen the strategic research area of Artificial Intelligence in the School of Computer Science and Statistics (SCSS), and to contribute to research in the ADAPT SFI Research Centre for Digital Content and Media Technology, (www.adaptcentre.ie) hosted by the School.
Candidates for the position should be internationally recognised scholars in at least one of the following research areas: artificial intelligence, digital media and content analytics, knowledge engineering or data engineering. This includes scientific areas such as: machine learning, natural language processing, semantic modelling, personalisation and data analytics. They will have a recognised ability to bring together these research areas or areas related to digital content technology.
They will have an internationally recognised research profile, with a demonstrated ability to raise research funding aligned with the priority research areas of the School, the Centre, and interdisciplinary research initiatives such as 'Engineering, Environment and Emergent Technologies (E3)'. Applicants should have a consistent record of successful outcomes in collaborating with industry, for example in domains such as, but not limited to, business, health, digital culture, entertainment, education, finance or health.
Trinity is an equal opportunities employer and we encourage and welcome hardworking people from all backgrounds to join our staff community.
The position of Professor is the highest academic post at the University. They possess high academic distinction with the capacity to provide leadership in the development of the discipline and the successful promotion of teaching and research. They have the proficiency to effectively represent the discipline inside and outside the University and are encouraged to act as Head of Discipline or School at some stage in the future. Role of the Professor The Professor will be expected to:
• Contribute to the inspiring work environment in Trinity that attracts high-quality researchers and to encourage their contribution to scholarship
• To strengthen links among researchers across Schools and Centres within Trinity and between Trinity and external, non-university organisations
• To engage in national and international research initiatives, allowing Trinity to make a distinctive contribution to scientific life locally and globally
Deadline: 12 Noon (Irish Standard Time), Wednesday 19th February 2020 or until all criteria are met.